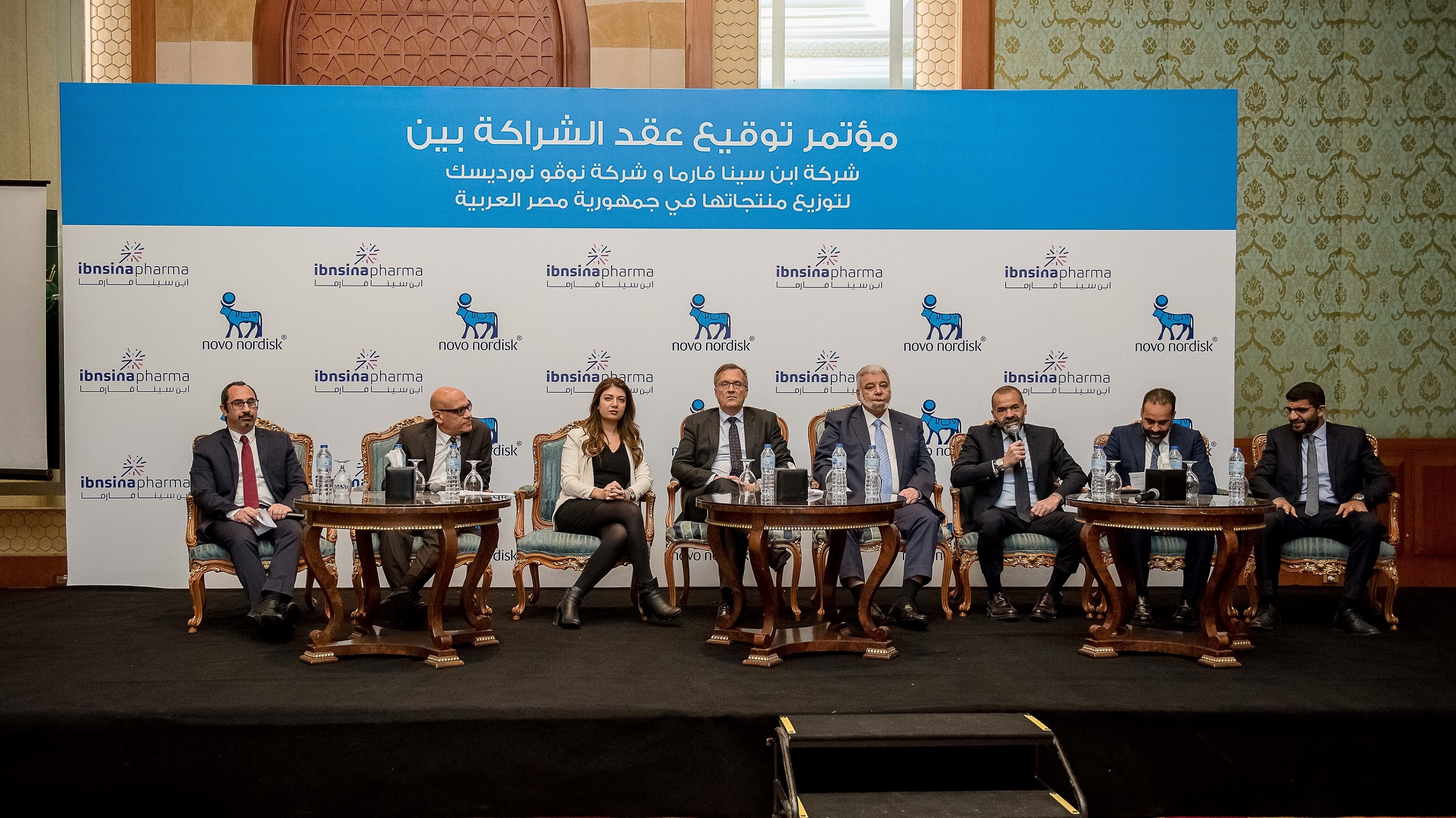 Ibnsina Pharma signs drug distribution contracts with Novo Nordisk to distribute its products in Egypt
The companies signed two contracts authorizing Ibnsina Pharma to distribute 20+ stock-keeping units of life-saving diabetes care and other Novo Nordisk's products in Egypt and establishing a partnership between the two companies.
20 March 2018 | Cairo, Egypt
Ibnsina Pharma (ISPH.CA on the Egyptian Stock Exchange), Egypt's fastest-growing and second-largest pharmaceutical distributor, has signed two contacts with Novo Nordisk, leading manufacturer of insulin and haemophilia treatment , to distribute over 20 stock-keeping units of its diabetes care , haemophilia and growth disorders products in Egypt.
Previously reliant on one public-sector distribution company and one private distribution company, Novo Nordisk will join a group of over 325 domestic and international suppliers who rely on Ibnsina Pharma to distribute their products to over 39,000 pharmacies, retail chains, wholesalers, public and private hospitals across Egypt.
"We are incredibly proud and excited by this new opportunity to distribute Novo Nordisk's life-saving diabetes care, haemophilia and growth disorders products across Egypt," said Mohsen Mahgoub, Chairman of Ibnsina Pharma. "Our primary objective is leveraging our distribution network to provide much-needed access to medication, and diabetes care products which are essential drugs in Egypt. At Ibnsina Pharma, our commitment to maintaining high operating standards and serving as a one-stop shop providing storage, distribution and value-added marketing services has allowed us to become highly successful in the market and a distributor of choice for many suppliers from both Egypt and abroad."
In preparation for distributing this new array of medical products, Ibnsina Pharma invested EGP 2 million in additional warehousing facilities and allocated 28 specialized trucks to deliver Novo Nordisk's cold-chain products. Currently the company has a total of 55 operational sites across the country. As part of the conditions to attain these new contracts Ibnsina Pharma also passed Novo Nordisk's due diligence and operational audit to meet international standards.
"Our investment to accommodate these contracts is the first execution in our plan to invest EGP 700 million in new sites and expansion of Ibnsina Pharma's network over the next five years. This expansion is made possible by our successful IPO, conducted in the fourth quarter of 2017 which was c. 18 times oversubscribed. Adding Novo Nordisk's high-demand products to our portfolio will continue to drive our profits and feed into our long-term plan for growth, Mahgoub asserted."