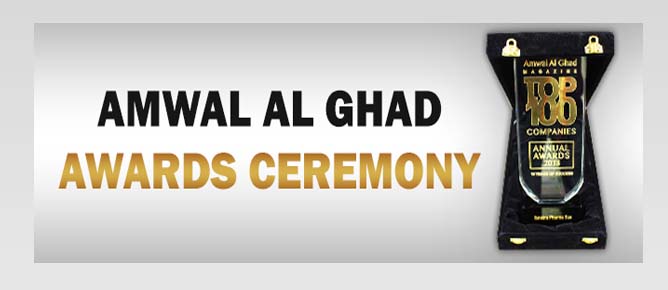 Ibnsina Pharma is named as one of Egypt's "Top 100 Companies" in 2018 by Amwal Al Ghad Magazine
Acknowledging the Company's strong performance in 2018 and its ongoing commitment to deliver a competitive portfolio of goods & reliable services, Ibnsina Pharma is among the top 100 companies honored at this year's awards ceremony held by Amwal Al Ghad Magazine
Cairo, 23 January 2019
Ibnsina Pharma (ISPH.CA on the Egyptian Stock Exchange), Egypt's fastest-growing and second-largest pharmaceutical distributor,  was recognized as one of the "Top 100 Companies" in Egypt in 2018 by Amwal Al Ghad Magazine, a leading business and economics magazine in Egypt and the Middle East.
Amwal Al Ghad Awards seek out the leading lights of the business industry, looking for those whose creativity, commitment, experience and strong leadership has helped them achieve success in an increasingly challenging corporate climate. Ibnsina Pharma continued success and ability to grow faster than peers and consistently outperform the market came through the careful execution of a value-based differentiation strategy. A strategy that is built on information and the continued investment in market intelligence, research and an understanding of clients' needs.
"It's a great honor to be recognized with Amwal Al Ghad Award", said Mahmoud Abdel Gawad, CO-CEO Ibnsina Pharma. "This is an acknowledgment of all the talented and committed people whom I have been fortunate enough to work with over the past few years".
"Performance awards is what all organizations aspire to. This award is a testament to ibnsina Pharma incredible growth, our passionate team who deliver sustainable value creation and high quality service to our stakeholders" said Omar Abdel Gawad, CO-CEO Ibnsina Pharma.
The award was presented at Amwal Al Ghad's fourth annual awards ceremony held on 21 January 2018 with ministers, high profile officials, CEOs, business leaders and heads of public and private institutions in Egypt in attendance, under the auspices of H.E. the prime minister Dr.Mostafa Madbouly who delegated Mr.Hisham Tawfik Minister of Public Enterprise in attending the event and handing out the awards.
About Ibnsina Pharma         
Originally established in 2001, today Ibnsina Pharma is Egypt's fastest-growing and second largest pharmaceutical distribution company. The Company distributes a competitive portfolio of pharmaceutical products from over 350 Egyptian and multinational pharmaceutical companies to more than 42,000 customers including pharmacies, hospitals, retail outlets and wholesalers. Its fleet of around 650 vehicles completes an average of over 460,000 deliveries each month.
Ibnsina Pharma's core services for suppliers include management of warehousing and logistics for pharmaceutical products as well as the development and execution of tailored marketing solutions targeting a nationwide database of customers. The Company also provides efficient and reliable order-taking and delivery services to customers and was the first in its industry to pioneer a telesales model. Operating across 59 sites in 23 cities nationwide, Ibnsina Pharma's team of more than 5,500 employees is dedicated to improving people's quality of life by ensuring their access to safe and high quality pharmaceutical products.